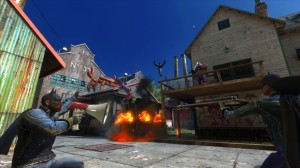 Warner Bros. Interactive Entertainment has announced that Gotham City Impostors, their multiplayer Batman/Joker first person shooter that doesn't feature Batman or The Joker, will be added to the PlayStation Network, Xbox Live Arcade, and PC download services on January 10, 2012.
Not only that, but the publisher has released a new screenshot (on your left, click it to enlarge) and confirmed that the Gotham City Impostors open beta will begin in December (sign up now at GothamCityImpostors.com).
You might say we're all getting a wonderful toy this Christmas.