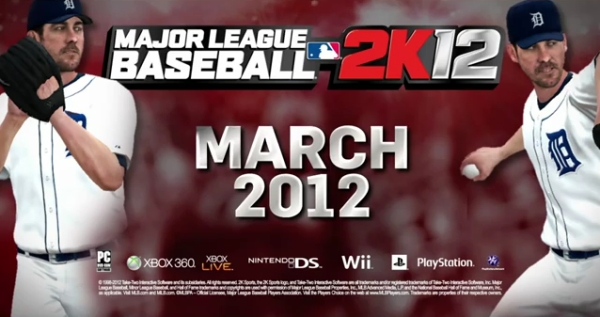 With the World Series still fresh in everyone's mind, 2K Sports has announced that Major League Baseball 2K12 will be comimg to the DS, PC, PS3, PSP, Wii, and Xbox 360 on March 6, 2012. They've also announced that Justin Verlander, the Detroit Tigers ace and probable AL Cy Young winner, will appear on the cover.
"Justin's amazing performance this season speaks for itself," said Jason Argent, vice president of marketing for 2K Sports. "Between his second career no-hitter and leading the league in virtually every pitching category, I can't think of anyone else but Justin Verlander to serve as the face of Major League Baseball 2K12."
"It's a dream come true to be on the cover of Major League Baseball 2K12," said Verlander, who pitched the second no-hitter of his career this season. "I've worked closely with 2K Sports on the MLB 2K series since 2007, and I couldn't be more excited to continue my relationship with such a great baseball game."
Roy Halladay of the Philadelphia Phillies was the cover athlete of Major League Baseball 2K11.