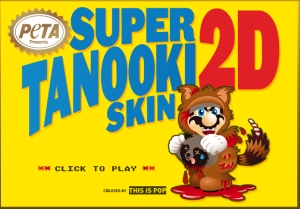 Did you know that the people of Japan skin tanookis (the little dog-like raccoons that are the basis for Super Mario 3D Land's Tanooki Suit) alive to make coats out of their fur? According to PETA, it's true, and the animal activist organization has created another video game parody to bring this practice to light.
Super Tanooki Skin 2D stars the titular Tanooki as he chases Mario through a blood-soaked Mushroom Kingdom to get his fur back. It's actually a pretty slick little Flash game, it's just too bad that no one at PETA seems to know their Mario trivia.
Mario obtains his Tanooki Suit in Super Mario 3D Land by touching a Super Leaf, a magic feather. So no tanookis were harmed during the making of this game because there's no "suit," it's all just magic. Mario, quite literally, turns into a Tanooki, a trickster god common in Japanese folklore.
So leave Mario alone!