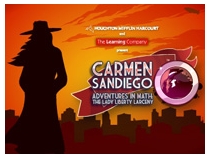 Do it, Rockapella! (Sorry, it helps if you were ten years old in 1991 to understand that reference).
For those who got the joke, you already know Nintendo has announced that the world's greatest thief will be making her way to the WiiWare service today in Carmen Sandiego Adventures in Math: The Lady Liberty Larceny. Also of note this week is Blaster Master: Enemy Below, a Game Boy Color sequel to the NES classic that is now downloadable from the 3DS eShop.
The rest of this week's Nintendo Download includes:
Blaster Master: Enemy Below (3DS eShop) – Using the strong weapons and high jumping power of his legendary battle vehicle, Jason must explore a subterranean region where a sinister life form resides.
Elite Forces: Unit 77 (DSiWare) – Drive armored trucks and tanks, defuse mines, locate explosives and rescue hostages. Gather your forces into a crack squad or control a single game character based on the strategic requirements.
WordJong Arcade (DSiWare) – WordJong mixes Mahjong solitaire and word play. Use letter tiles to create words. WordJong Arcade has 2 new ways to play, Arcade and Yin-Yang.
Just Sing! Christmas Volume 3 (DSiWare) – Merry Christmas Karaoke! Storm onto the Christmas stage and celebrate the festival of festivals with two classic Christmas songs: "O Christmas Tree (O Tannenbaum)" and "Joy to the World"!
Carmen Sandiego Adventures in Math: The Lady Liberty Larceny (WiiWare) – The Statue of Liberty has vanished! The Chief wants ACME's best agent on the case. Carmen Sandiego is back, and only you can foil her V.I.L.E. plans.