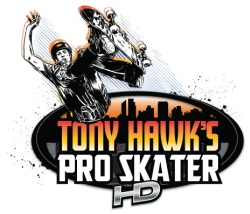 If you caught this weekend's Spike TV Video Game Awards, then you know Tony Hawk is returning to the virtual halfpipe next year with Tony Hawk's Pro Skater HD. Today, Activision dropped a few more details on the game.
Developed by Robomodo, Tony Hawk's Pro Skater HD won't be a straight remake of the original game. Instead, it'll actually be a high definition remix of the first two Pro Skater games. It's also being planned as a $15 downloadable title for the PlayStation Network and Xbox Live Arcade.
In addition to the remixed original content, Tony Hawk HD will update the gameplay to match where skateboarding is today. At least, so says The Birdman himself: "We've updated many elements [of the game] to reflect today's skateboarding scene as well. Long-time fans of the series will appreciate the huge amount of polished content at a very low price."
As always, Tony Hawk's Pro Skater HD will feature a wide variety of skateboarding pros including Tony Hawk, Nyjah Huston, Chris Cole, Eric Koston, Andrew Reynolds, Rodney Mullen, Lyn-z Adams Hawkins (Pastrana), and Tony's son, Riley Hawk (who was just six years old when the first THPS was released).
If you missed the debut trailer for Tony Hawk's Pro Skater HD, you can check it out right here.