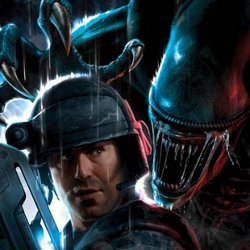 Apologies for the headline, but it was the only way to be sure you'd read this update on the release date for Aliens: Colonial Marines as the oft-delayed squad shooter has been delayed by Sega again.
Speaking to Game Informer, the publisher has confirmed that the delay was due to a desire to make sure the game is as polished as a Xenomorph's head.
OK, not really, but Sega (and developer Gearbox Software) did cite a need for more development time as the primary reason for the delay:
Aliens: Colonial Marines is a process of creativity and invention and those don't necessarily follow the structure of an assembly line. While setting clear goals, deadlines and predictions is helpful, they are often subjective. We don't want to sacrifice the creative process just for the sake of following a blue print. We prefer to have the creative discovery shape that blue print because our goal is to make a great game, and we are prioritizing this goal over the previously targeted date.
Aliens: Colonial Marines will now be available in the Fall for the PC, PS3, and Xbox 360. A Wii U version will also be available sometime this Fall or whenever it is Nintendo's new console will launch.