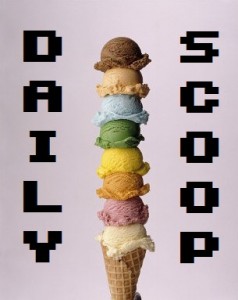 Seriously, it's 23 degrees right now, feels like 13. How is that even a number that is applied to the weather? That should be against the law of nature. I am so cold! All I want to do is go home and snuggle up with my kitties under a blanket, either reading more Dresden Files or playing more Assassin's Creed while sipping on some miso soup. Oooh, miso soup makes me think of Cousin Miso… now I want to play Katamari…
*shakes head* Stay the course, Nicole! This is a scoop, not your daydreams. Today's Deal of the Day is the same as what GameStop is offering – a $75 promotional credit when you buy the Xbox 360 250GB Holiday Value Bundle, which comes with Fable III and Halo Reach. Now is a good time to pick up an Xbox, or replace your Xbox that red ringed over the holidays!
Today's Tee Fury t-shirt is a must-have for those of you with the new Kid Icarus game on pre-order: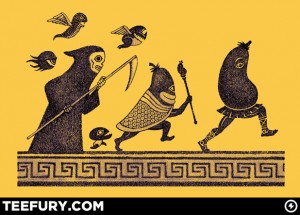 You know you want it.