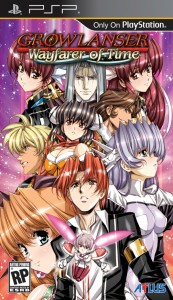 Growlanser: Wayfarer of Time will be released in North America by Atlus for the PSP. This enhanced and remastered version is scheduled to arrive on our shores this summer.
This fourth title in the series has never been released outside of Japan, where it is called Growlanser IV: Over Reloaded, and is considered by some to be the best game in the Growlanser series. The game will have many improvements and additions, including "new characters, scenarios, and events [which] are complemented by dramatically improved loading times and a message skip option that allows players to advance the story at a faster pace." This epic game also has a "40+ hour narrative with over 40 different possible endings, deep tactical RPG mechanics, the character designs of the legendary Satoshi Urushihara, and a host of enhancements over the original release."
This game seriously sounds off the hook, especially when you consider that they were unable to include voice acting for the entire script, due to the fact that it is "already one of the largest localization projects in the publisher's two decade history." At least the anime cutscenes will be voiced.