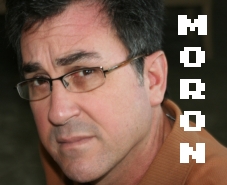 My love for this graphic overrides my hatred of Wedbush Securities analyst Michael Pachter, so here's another article where "The Pach" says something stupid…
Speaking to Industry Gamers, Pachter has once again spouted off on his predictions concerning the Wii U. Not surprisingly, Pachter is betting against Nintendo's next console. This time, he cites his belief that the Wii U is "all but assured of limited third party launch support," which will, in turn, lead to poor hardware sales for the system.
By trying to be 'different' with the tablet controller, they have complicated game design for developers, who can't figure out if the Wii U will ultimately support only one or multiple controllers. Nintendo made the device sufficiently different that they are all but assured of limited third party launch support, which ultimately will lead to modest hardware sales.
To be fair, Pachter isn't the only person questioning the logic of Nintendo's Wii U launch strategy. And the company's typical tightlipped tactics aren't helping that impression any. However, the third party software that'll be available at the Wii U's launch makes me wonder if Pachter was paying attention during E3 11.
He goes on to say that Nintendo is in for a rough time if they treat the Wii U the same way they treated the Wii:
They should stop relying upon the strategy that got them here, as it appears to no longer be working. I think their resolution should be to look outside of Nintendo for leadership in the areas of digital downloads, a user-friendly online interface and multiplayer gaming.
Really? Forgive him Saint Miyamoto, he knows not what he says.