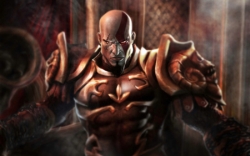 Timothy Williams used to have a website at TimothyWilliams.net. I say "used to" as the composer pulled down his site after revealing the existence of God of War IV on his resume this morning. Of course, that's nothing new as God of War IV has been "confirmed" multiple times before.
But then Williams went one better.
Taking a giant dump on the non-disclosure agreement he surely signed, Williams told Joystiq that the God of War IV listing on his resume is accurate. In a statement, he said "[I am] working on [God of War IV] in the capacity of orchestrations and some additional music." Williams would go on to say that Sucker Punch composer Tyler Bates is the "main composer" on God of War IV.
Your move Sony.