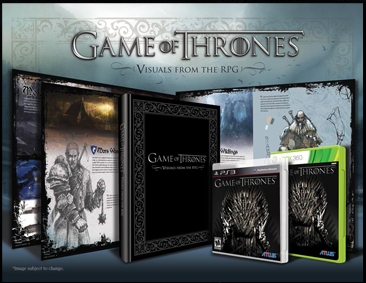 But don't lose your head over it!
Atlus has announced that gamers who pre-order the PS3 or Xbox 360 version of Game of Thrones from Amazon, GameStop, or the HBO Store will receive a 64-page artbook entitled Game of Thrones: Visuals From the RPG.
It looks like Atlus is going all-out with this artbook. In addition to being hardbound and printed on premium paper, it'll include "64 full-color pages of sketches, renders, photos, and screenshots from the game accompanied by compelling text and commentary from the development team."
And don't worry, the same deal applies in the wintry north of Canada as well if you pre-order from Amazon.ca or EB Games.
Game of Thrones will be available for the PC, PS3, and Xbox 360 on May 15.