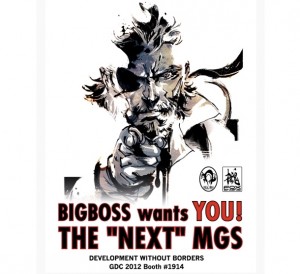 The poster pretty much says it all: Big Boss wants you to help with the next iteration of the Metal Gear Solid franchise. Kojima Productions has gone into full-on recruitment mode, and will be at the Game Developers Conference. I hope they're ready for the flood of resumes they're about to get. They'll be located in the Konami Booth in the Career Pavilion, #1914.
But the big news might just be that the next Metal Gear Solid will be available for "high-end consoles and PC." Say goodnight, PS3 exclusivity.
Hit the jump for the full list of positions they're hiring for.
Programming:
Senior Gameplay Programmers / Gameplay Programmer
Audio Programmer
Network Programmer
Senior AI Engine Programmer / AI Engine Programmer
Senior Animation Engine Programmer / Animation Engine Programmer
Graphics Engine Programmer
Senior Engine Programmer / Engine Programmer
Art:
Concept Artist
Character Artist
Environment Artist
Animator
Cinematic Artist
FX Artist
UI Designer
Game Design/Level Design/Scripting:
Game Designer
Level Designer
Mission Scripter
Sound:
Production:
Full details can be found at the Kojima Productions GDC site. Do you think you've got what it takes to work with Hideo Kojima?