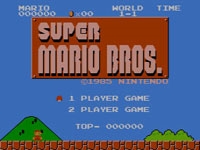 After appearing on the NES, Super NES, Game Boy Color, Game Boy Advance, and the Wii, Mario's first super adventure is making the jump to the 3DS. That's right, Super Mario Bros. is available to download from the 3DS eShop today.
Also available on the 3DS eShop today is a free demo of Metal Gear Solid: Snake Eater 3D.
Another classic game invades the Wii Shop as the Sega Genesis version of Strider has been added to the Virtual Console. And in non-game news, a Hulu Plus app is now available for the Wii. After signing up for a $7.99 a month subscription, Wii owners will have access to current season episodes of a ton of great TV shows, along with classic movies and shows.
Finally, there's iSpot Japan, a DSiWare title that "takes you on a journey across the Land of the Rising Sun, explaining facts and curiosities about Japanese culture while you play a classic "spot the difference" game in the country's most beautiful locations."