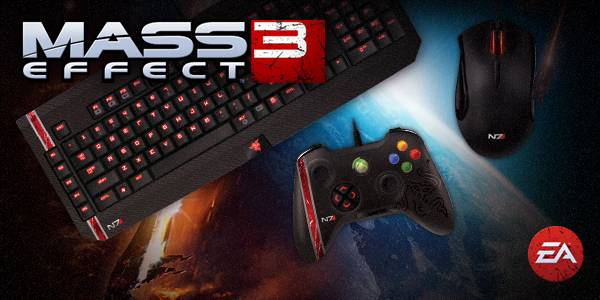 Razer has teamed up with BioWare to make some sleek, fancy peripherals for Mass Effect 3. These drool-worthy accessories include:
Razer Imperator gaming mouse
Razer Vespula dual-sided gaming mouse mat
Razer BlackWidow Ultimate gaming keyboard
Razer Onza Tournament Edition Xbox 360 controller
Razer Chimaera Xbox 360 gaming headset
Plan on playing Mass Effect 3 on the PlayStation 3? Womp womp. No accessories for you. There will also be an iPhone case and a messenger bag for sale as well. (If you're me, then you're doubly screwed: I've got a PS3 and an Android phone!)
Mass Effect 3 peripherals are currently available for pre-order at the Razer store. The game is due out on March 6 for PC, PlayStation 3, and Xbox 360.