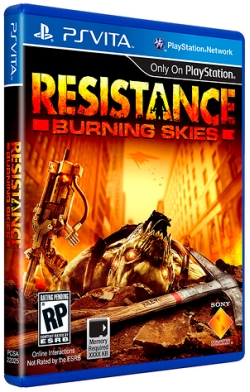 With the PlayStation Vita now available in stores, Sony is hard at work on a second wave of titles that'll hit the handheld later this year. And the first of those games, Resistance: Burning Skies, now has a release date: May 29, 2012.
Unlike the PSP's Resistance: Retribution, which was a third-person shooter, Burning Skies will retain the first person perspective of its PS3 brethren. According to Sony, it will be the first portable game ever controlled using a dual-analog stick setup and a "console-quality shooter."
And if that's not enough, you might want to know that it also stars a fireman:
Resistance: Burning Skies pulls you into an entirely new dimension of the Resistance universe. Set in a tale of survival during the August 1951 Chimeran invasion of the East Coast, you take control of Tom Riley, an everyday firefighter from New Jersey who is thrown headfirst into the teeth of the Chimeran war machine, forcing him to redefine his notions of duty and heroism.