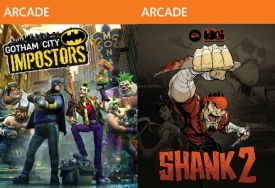 Today's Xbox Live Arcade update will look very familiar to anyone who scoped out yesterday's additions to the PlayStation Store. While Xbox owners won't be able to throw down with the Jak and Daxter Collection, two other cartoony action titles are on the menu.
Gotham City Impostors puts you in the cape and cowl of a caped crusader (not The Caped Crusader) as you attempt to rid Gotham of Jokerz, a particularly dumb brand of criminal who've patterned themselves after the Clown Prince of Crime. It can be downloaded for 1200 Microsoft Points ($15), along with hundreds of dollars in optional DLC:
A 6 vs. 6 first person shooter, Gotham City Impostors is a multiplayer game unlike any other, giving players the opportunity to rebel against conformity as they customize their own characters. Posing as amateur vigilantes or villains, gamers create their own Bats and The Jokerz characters using unprecedented customization options including insane costumes, homebrewed gadgets and a wide range of traditional and imagined weapons.
Also available today is Shank 2, which stars a crazed brawler in a crazy brawler. It can be yours for 800 Microsoft Points ($10):
The fan-favorite 2D brawler is back in action with Shank 2. Shank is forced on the offensive wielding his trusty arsenal of weapons and combo moves to protect those close to him. Shank 2 raises the bar from the original, creating an amazing comic book visual style and combat system which redefines the 2D side-scrolling brawler.