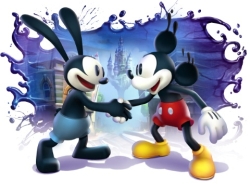 The reigning "worst kept secret in gaming" is a secret no longer as Disney has announced Epic Mickey 2: The Power of Two will be available for the Wii, PS3, and Xbox 360 this Fall. And even though it sports the subtitle "The Power of Two," Epic Mickey 2 is all about the firsts:
Epic Mickey 2 is the first game in the series to be released for the PS3 and Xbox 360.
Epic Mickey 2 is the first game ever to feature Oswald the Lucky Rabbit as a playable character.
Epic Mickey 2 will include co-op play, a first for the series.
Epic Mickey 2 is the first video game ever to be described as a "musical."
That's right, a musical. Emmy-winning composer James Dooley and lyricist Mike Himelstein will create multiple, brand-new compositions that'll allow characters to advance the plot by expressing themselves in song. In addition to conducting their own personal soundtrack, Mickey and Oswald will speak for the first in the series.
Warren Spector, Creative Director and Vice President of developer Junction Point summed it up best: "As a life-long Disney fan, working with Mickey Mouse in the original Epic Mickey was a truly humbling experience. Millions of fans fell in love with Mickey as a video game hero and I know they'll experience similar emotions when they get to interact with and actually play as Oswald the Lucky Rabbit in Epic Mickey 2: The Power of Two."