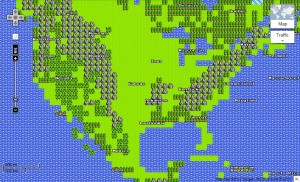 Have you ever wondered what the world would look like in 8-bits?
Now we can find out because Google has added an 8-bit "Quest" filter to Google Maps. Using the world map tiles from the four Dragon Warrior/Dragon Quest games on the NES, the filter remaps streets, rivers, parks, mountains, and more in glorious 8-bit. And don't forget to check out the Street View too!
This isn't the first time Google has mined NES and Super NES nostalgia for a fun time. Previously, the search giant transformed their logo into a playable version of Pac-Man, added the Konami Code to Google Reader, and did a barrel roll with their search results.
UPDATE: The "Quest" filter is no longer accessible through Google Maps. Oh well, it was fun while it lasted. The video walkthrough is all that's left: