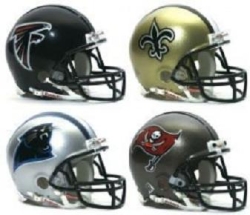 Are you ready for some football? How about a long and drawn out fan vote to decide who will appear on the cover of Madden NFL 13? Well, EA Sports has you covered on both.
Every day this week, the Madden-maker has revealed each division's nominees for the game's cover. The 64-player tournament will initially include two players from each team. Beginning March 7, fans can head over to the ESPN SportsNation Facebook Page to decide who will represent each team in the final 32-player bracket.
Today's nominees come from the NFC South:
Atlanta Falcons
Julio Jones or Matt Ryan
Carolina Panthers
Cam Newton or Steve Smith
New Orleans Saints
Drew Brees or Jimmy Graham
Tampa Bay Buccaneers
LeGarrette Blount or Josh Freeman
In 2011, Drew Brees set single-season records for most passing yards, most games over 250 yards, most games over 300 yards, most games over 350 yards, most completions, and highest completion percentage. In short, the man was a passing machine and made quarterbacks like Josh Freeman and Matt Ryan look like rank amateurs. But I wouldn't count out Cam Newton, he's the kind of exciting young quarterback that EA Sports used to pick for the cover back when they did the picking themselves.