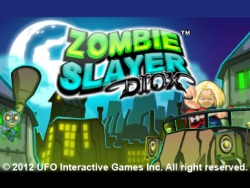 In addition to several new 3D music videos, today's Nintendo Download includes a trio of new titles and a special message from an Oscar-winning dog.
Is the suspense killing you? Here's all the details on this week's new releases:
Zombie Slayer Diox (3DS eShop) – Zombie Slayer Diox is a rhythm-action game with a side-scrolling twist. Don the jeans and leather boots of a samurai guitarist living in a future time when zombies have taken over most of the world.
1st Class Poker & BlackJack (DSiWare) – This collection offers many varieties of poker, blackjack and video poker, including Texas Hold'em, Double Flop Hold'em, Omaha and Pineapple. Play solo or try the local multiplayer mode.
Carmen Sandiego Adventures in Math: The Island of Diamonds (WiiWare) – Crack the case of the Island of Diamonds in single-player Story Mode. Perfect your math skills in single-player Practice Mode. Challenge your friends and family to solve math puzzles against the clock in Multiplayer Mode.
And as for that dog… Nintendo is sending out a special Swapnote inspired by Uggie, the canine star of The Artist and the "spokesdog" for Nintendogs + Cats.