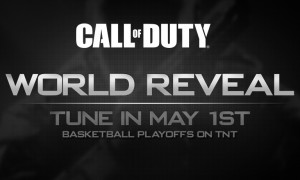 Activision has added a new splash page to CallofDuty.com confirming that Call of Duty 9 will be unveiled on May 1. The reveal will happen during TNT's coverage of the NBA Playoffs, probably during the 8:00 PM (Eastern Time) game. The splash page also contains a series of "classified images," which will unlock during the days leading up to the reveal.
Speculation is running rampant that Call of Duty 9 will be revealed as Call of Duty: Black Ops 2. I'd say the image to your right more-or-less confirms it as the faintly visible character in the background matches a leaked Black Ops 2 poster discovered by MP1st.
Whether its Black Ops 2 or not, we do know that the ninth Call of Duty game will be available this November.