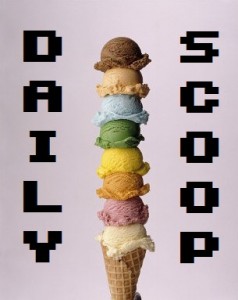 Well, I've been off for four straight days, and it's been glorious. But today, I head back to work. Sad faces! I spent the weekend playing a lot of Dungeons and Dragons (my first ever Battle Interactive!), watching loads of "True Blood" (this show is darn good), reading some more Dresden Files (I'm on book seven), and lots and lots and lots of writing. Whew! Busy-ness.
Let's see, what's up for today? Amazon's having a Gold Box dedicated to video games! The big deal is Mass Effect 3, which is just $29.99 today on PC, PlayStation 3, and Xbox 360.
The rest of the Gold Box deals are:
6:00 AM PST/9:00 AM EST: "This wireless gaming headset is powered by state-of-the-art 2.4/5Ghz Dual Band WiFi radio technology that virtually eliminates wireless interference" – this is Turtle Beach Ear Force X32 Digital Headset for $64.99!
8:00 AM PST/11:00 AM EST: "PlayStation Eye" – Um, I guess this is the PlayStation Eye? :P – Yep! $20 today!
9:00 AM PST/12:00 PM EST: "Get your PlayStation 3 system moving!"
10:00 AM PST/1:00 PM EST: "PlayStation Move Navigation Controller" – OK, they're not even trying now…
11:00 AM PST/2:00 PM EST: "This attachment is perfect for arcade style shooting games." – Could this be the Sharpshooter?
12:00 PM PST/3:00 PM EST: "SNK's flagship fighting game for the PS3!" Could this be King of Fighters XIII?
2:00 PM PST/5:00 PM EST: "Catch "Lightning" with this deal" – My guess is Final Fantasy XIII-2!
5:00 PM PST/8:00 PM EST: "Created to appeal to the serious fighting game enthusiast, a FightStick that is made to bring the arcade experience closer to home"
8:00 PM PST/11:00 PM EST: "Set sail for a LEGO adventure on your Nintendo DS." – Lego Pirates of the Caribbean, anyone?
Seems like mostly deals for PlayStation 3 owners, but perhaps a few cross-platform deals as well. Keep your eyes peeled for more information!
Just one gaming-related shirt today, and it's a funny mashup!
It's Ript's "Destroy the Robot Masters," bringing together Transformers and Mega Man: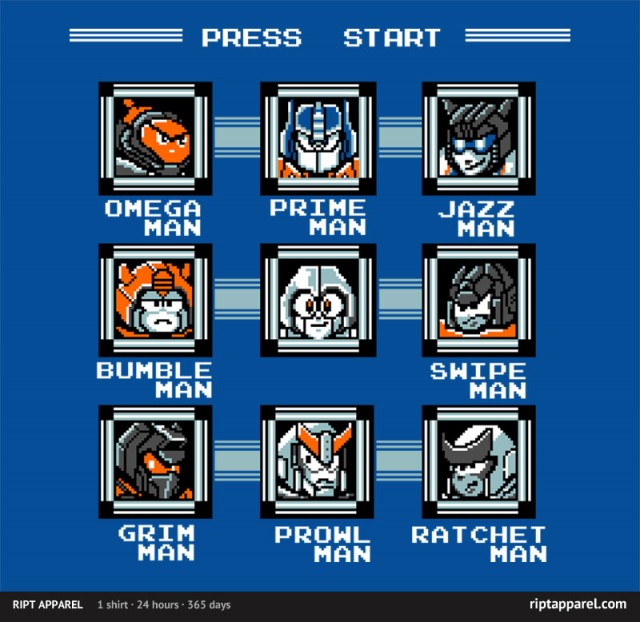 More than meets the eye!