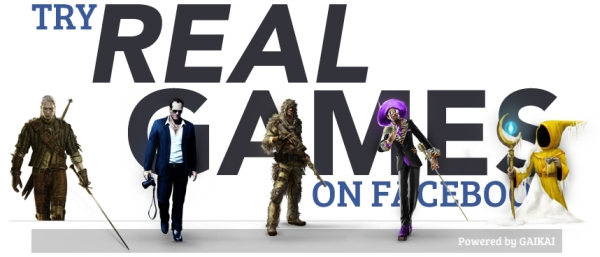 Cloud gaming service Gaikai has announced the beta of it's Facebook app will be available for gamers to try out for free.
Gaikai promises its app will provide "high-end, console quality game experiences" on Facebook through the use of Cloud streaming technology. David Perry, CEO of Gaikai, hopes video game publishers will embrace the service to expand their digital customer base, and underscores the value of letting people try games with no obligation, saying, "The Facebook social graph fuels our mantra 'Try it for free', 'Share it if you like it', 'Buy it if you love it'."
There are a limited number of titles available to play for free in the beta version of the app, which is only currently available in the US and Europe. Saints Row: The Third and Dead Rising 2: Off the Record are available in the US only, while Magicka, Sniper: Ghost Warrior, The Witcher 2: Assassins of Kings, Orcs Must Die!, and Farming Simulator 2011 are available in the US and Europe.
To play, you'll need a broadband Internet connection and Java installed. Gaikai works on PC or Mac in all major browsers. To check out the app for yourself, head over to Facebook and fire up Gaikai right now.