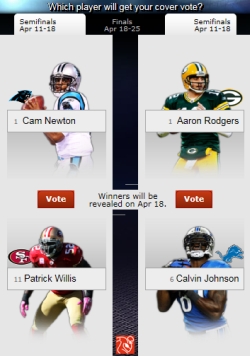 Round Three of the Madden NFL 13 cover vote is complete and the final four has emerged. Semifinal voting will run from today until April 18 as these players vie for your votes:
Left Bracket
Cam Newton (#1) vs Patrick Willis (#11)
Right Bracket
Aaron Rodgers (#1) vs Calvin Johnson (#6)
Both of the top seeds still remain and both are competing against some surprising opponents as we near the end. The 11th-ranked Patrick Willis has had the kind of run that Peyton Hillis had last year. A dedicated fanbase pushed him to the finals, which eventually pushed him over the top against the divisive Michael Vick. Johnson is less of a surprise as he was far and away the best wide receiver in the league last year, but anytime Rob Gronkowski gets bested, it's a surprise.
But I would be surprised if either man makes it to the finals. Those two positions are reserved for Newton and Rodgers, I guarantee it.