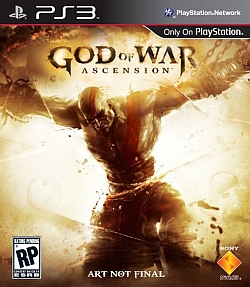 I don't even remember how it started, but it's always been the assumption that a fourth God of War game would include some type of multiplayer mode. This morning, Sony confirmed that when God of War: Ascension ships sometime next year, it'll include a multiplayer mode.
The multiplayer mode reveal will be included as part of a livestream on the PlayStation Blog today (beginning at 11 AM Eastern). But a few details have already leaked out early courtesy of a media event Sony held last week.
When creating a character, players will "sell their soul" to one of four gods (Ares, Zeus, Hades, or Poseidon). Which god you choose will determine how your character's "allegiance tree" shakes out as they advance through the multiplayer mode.
During the event, Sony showed off Domination Mode, which will be an 8-on-8 brawl where two teams of four compete for "the favor of the gods." The team that pleases the gods the most will earn the right to massacre a towering cyclops. The idea is to bring the infamous boss battles from the single-player mode to multiplayer.
But don't forget to tune into the God of War: Ascension livestream to get your first look at the game's multiplayer mode.
[Source: USA Today]