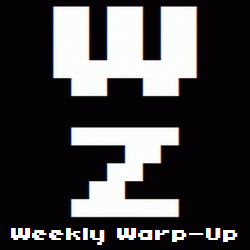 No, that's not a typo. Welcome to the Weekly Warp-Up, your weekly wrap-up of the biggest and the best articles posted at Warp Zoned this week…
It looks like it's book week at Warp Zoned as we review both Jacked: The Outlaw Story of Grand Theft Auto and The Art of Video Games: From Pac-Man To Mass Effect. And speaking of books, we pull out the Good Book again for the latest edition of The Cross and The Controller, "The Darkness II Shines a Light on Religious History."
However, sometimes you just want to throw a book at someone. Say, for example, the people who keep complaining that games are more expensive than ever. To them I say… Just Stop! Games Are NOT More Expensive Today
Finally, our PAX East 2012 coverage continues with a double-barreled look at Double Dragon: Neon including a Hands-On Preview and an Interview with Majesco's Pete Rosky.
Looking for more of this week's biggest stories, then turn the page and check out the rest of the Weekly Warp-Up.
The Week in New Games…
Amazing Paperboy Delivers…
It's A Secret To Everybody…
And Finally…
Google wants to "Zerg Rush" your search results. Defend them!