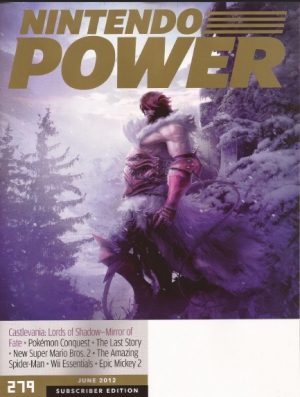 After last month's tease, Nintendo Power has finally revealed their exclusive first look at the new entry into the Castlevania franchise. With an overly long subtitle, Castlevania: Lords of Shadow – Mirror of Fate is a sequel to the 2010 reboot of the franchise that launched on the PS3 and Xbox 360. Best of all, Mirror of Fate is being developed by the same studio, Spanish-based Mercury Steam.
Little else is known thus far, although it has been revealed that the main protagonist is not Gabriel Belmont from Castlevania: Lords of Shadow, but rather a veritable Belmont Bunch. Mirror of Fate will feature four protagonists including Simon Belmont, the original vampire killer, and Trevor Belmont, who first appeared in Castlevania III: Dracula's Curse on the NES. The remaining two characters have yet to be revealed.
As the original Belmont, we all know Simon's story. Wielding the "Vampire Killer" whip, he stormed Castlevania and whupped Dracula. But he was not alone. In the NES timeline, Trevor was the first Belmont to defeat Dracula. However, as this new entry is set in the reimagined universe, it remains to be seen how Simon or Trevor will fit into the new history.
In addition to the return of the Belmonts, Mirror of Fate will be a return to the "Metroidvania" style of play the franchise made famous. The game will focus more on exploration than combat with a 2.5D view throughout most of the game. But there will be plenty of fighting as Trevor will wield the Combat Cross and various magical spells while Simon cracks his whip and brings back other NES items like throwing axes and holy water.
Given the end scenes of Castlevania: Lords of Shadow, it would be a safe bet that they'll be meeting Gabriel soon enough. More information will undoubtedly be revealed at Konami's pre-E3 event tomorrow.
[Source: Nintendo Power via Go Nintendo, About]