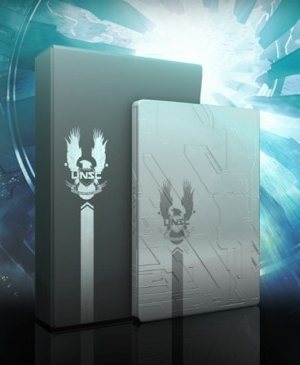 Microsoft began their big Halo 4 marketing push today, as the publisher has announced a pre-order program for the Limited Edition of the game. Also, they announced a Halo 4 Limited Edition, but that's not much of a surprise, is it?
Purchasing the Limited Edition will set you back $99.99, but it includes a huge variety of Halo-themed extras such as free access to nine DLC maps, unlocked Specializations, unique character and weapon skins, and an extended version of the Halo 4: Forward Unto Dawn live-action series.
But if you'd prefer your Halo 4 Limited Edition contents in handy list form (with Microsoft-provided descriptions), we've got that after the break.
Halo 4 Limited Edition Contents
War Games Map Pack Access – The Limited Edition includes access to nine maps (three future competitive multiplayer map packs, each including three locations) available for download post-launch on Xbox Live. A detailed release schedule for the map packs will be announced at a later time.
Specializations – Receive early access to six Specializations, available at launch on Xbox Live, to achieve higher ranks in your Spartan career. In addition to gaining access to new ranks, Specializations unlock new customization options. Purchasers of the Halo 4 Limited Edition will get access on launch day, while others will have to wait as Specializations are released over time.
UNSC Infinity Briefing Packet – An armor customization schematic, a blueprint of the massive ship itself, and insight into what it means to be one of humanity's finest warriors: the Spartan-IVs.
Halo 4: Forward Unto Dawn Special Edition – An extended 90-minute version of the live-action digital series that will bring the "Halo" universe to life as you've never seen it, and provide an enthralling backstory leading up to the events of Halo 4.
Special Video Featurette – Bonus in-fiction content expanding the characters and stories of Halo 4: Forward Unto Dawn
Special Video Featurette – Bringing Gaming into Reality
Special Video Featurette – Making of Halo 4: Forward Unto Dawn
Bonus digital content through Xbox Live:

Unique in-game Spartan-IV armor skin
Unique in-game weapon skin for the Assault Rifle
An exclusive in-game emblem
Xbox Live Avatar prop
Xbox Live Avatar Spartan-IV armor set