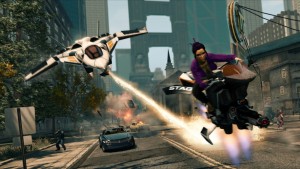 Danny Bilson, THQ's (now former) Executive Vice President of Core Games, has always been a little too talkative with the media. He admits as much in a recent interview with Eurogamer, his final one as a representative of THQ. Bilson also talked extensively about the company's plans for 2013 (and beyond) and what the future holds for games like Insane, Saints Row 4, Devil's Third, their unnamed shooter from Turtle Rock, and more.
Hit the jump for some of the highlights.
On the subject of Guillermo Del Toro's Insane, Bilson mentioned that it may miss its planned 2013 release date and that it may land on the PS4 and Xbox 720:
Eurogamer: So development [of Insane] is going well and it's still on course for release for a 2013 release?

Danny Bilson: It could be later. There are a lot of reasons you can probably guess why it might be later that are good reasons. Let me just tell you it's good reasons.

Eurogamer: You couldn't possibly be saying it's been shifted to PlayStation 4 and the next Xbox?

Danny Bilson: I wouldn't know.

Eurogamer: Of course you know.

Danny Bilson: I might know but if I knew, I couldn't talk about it.
And when asked about Saints Row 4, Bilson proceeded to confirm that the game will include multiple new characters and that THQ won't start seriously talking about it until next year's E3. So with a late 2013 release at the earliest, you're looking at another THQ game that may make the leap to the PS4/Xbox 720:
Danny Bilson: Well, of course I'm not allowed talk about Saints Row 4 now, but generally I'm incredibly excited about the content in Saints Row 4. There's a lot of new characters and new points of view in the game. I can't say much or I'll get killed. But I actually think it'll have an even broader appeal than the last one, based on the content. I'm sure we're a year away from really talking about it, probably.

But being involved with it, I love what they're doing with 4. It expands the appeal of the game. It has all the stuff you love, plus more stuff you've never seen in any game. Well, we kind of do that with Saints Row, right?
Head over to Eurogamer for the rest of the interview, it's certainly worth a read.