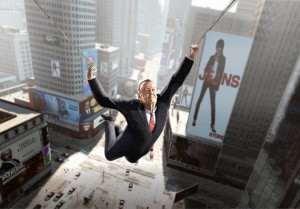 Stan "The Man" Lee is about to star in his greatest cameo to date… as a playable character in The Amazing Spider-Man. Players who pre-order the PS3 or Xbox 360 version of the game from Amazon will receive a code to unlock the "Stan Lee Adventure Pack."
The "Stan Lee Adventure Pack" will send the comic creator webslinging across Manhattan, searching for the lost pages from his latest script. Lee will provide some of his trademark witticisms ("Excelsior!" and such) to make the bonus level even more authentic (Stan Lee has spider-powers, right?).
GameStop has also announced a pre-order offer of their own for The Amazing Spider-Man, a special missions starring The Rhino. "The Rhino Challenge" stars the hulking villain and asks players to rampage through New York trying to cause as much damage as possible. Like the Stan Lee Adventure Pack, the Rhino Challenge is also limited to pre-orderers of the PS3 and Xbox 360 version.
Sadly for GameStop, I think I know which mission gamers will be much more interested in and it ain't The Rhino Challenge.