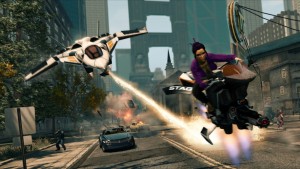 Here's what's new in this week's PlayStation Store update…
Saints Row: The Third (PS3 Full Game) – Years after taking Stilwater for their own, the Third Street Saints have evolved from street gang to household brand name, with Saints sneakers, Saints energy drinks and Johnny Gat bobble head dolls all available at a store near you.
Need For Speed: The Run (PS3 Full Game) – It's called The Run. Three-thousand miles of unforgiving asphalt from San Francisco to New York. No speed limits. No rules. No allies. Armed with just his guts and instinct, Jack battles a field of the most notorious drivers ever assembled.
Datura (PSN Game) – In Datura, the player will experience an incredibly unique scenario. As you play Datura, you find yourself in a forest. As you explore this environment, you will be presented with different scenarios in which you have to make a choice, which will determine your end result.
But more importantly, the PixelJunk series has been discounted to $1 apiece in anticipation of next week's release of PixelJunk 4AM. Scoop 'em up!