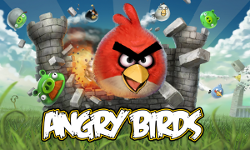 For the few people who have not played Angry Birds in one of its many iterations on their phone, PC or tablet, never fear, Activision will be bringing an HD version of the game to "consoles" (which consoles, or when, went unmentioned).
For some reason, this irks me. Despite loving the Angry Birds franchise, especially the Super Mario Galaxy-inspired Angry Birds Space, I like it fine on my phone. It is perfect for a touch screen, and would perhaps work well on the Wii U GamePad, but I cannot see anyone who owns a smartphone opting to pay more money for a console version that has a poorer control interface than the one originally designed for that type of game.
Perhaps my cynicism is ill-founded, and this is a brand new game that will make full use of a standard game controller. The company best known for the Call of Duty franchise will be revealing more details in the coming weeks.
[Source: Game Informer]