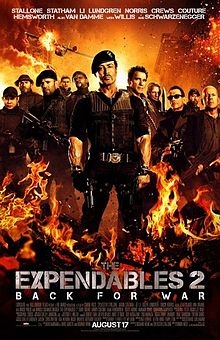 The Expendables 2 is getting an action-packed tie-in game this Summer from Ubisoft, and it's nothing like the Contra-inspired Facebook game the first movie received back in 2010.
The Expendables 2 game is, instead, a top-down, downloadable shooter designed for the PC, PlayStation Network, and Xbox Live Arcade. One-to-four players (locally and online) will be able to control Barney Ross (Sylvester Stallone), Gunner Jensen (Dolph Lundgren), Hale Caesar (Terry Crews) or Yin Yang (Jet Li) as they attempt to rescue a kidnapped billionaire. Of course, "all hell breaks loose," and The Expendables are forced to shoot their way through the Somalian desert and the Burmese jungle in a story that leads right into the movie sequel.
The Expendables 2 will be available to download this Summer, probably around the movie's August 17 opening.