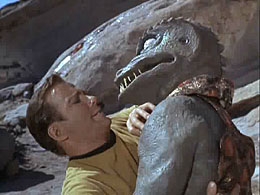 Paramount Pictures, along with video game publisher Namco Bandai and developer Digital Extremes have revealed the enemy of their much anticipated game based on the rebooted universe of the new Star Trek films: the lethal, lizard-like species known as The Gorn. The alien race, originally designed by artist and prop designer Wah Chang, first appeared in the famous "Arena" episode of The Original Series. Although they have made subsequent appearances, including a laughable CGI version in the last TV iteration, Star Trek: Enterprise, they are seen as an iconic villain, especially for Captain Kirk, by those working on the game.
While perhaps not as famous as the Klingons, who J.J. Abrams has confirmed will be the antagonists of the sequel film, The Gorn are every bit as battle-thirsty. The game will see several distinct types of Gorn, from infantry Rushers to hardened Brutes, while the females of the species will be more cunning, able to climb walls with stealth.Carlson Choi, VP of Marketing at Namco Bandai Games America, sees The Gorn as the perfect villain for this new title:
"Great villains give our favorite characters a chance to become heroes in the process of attempting to eliminate a powerful threat, and Star Trek fans have been eagerly anticipating the moment when the antagonists of the game would be revealed. This is one of those moments and we couldn't be more excited to give gamers a glimpse at the challenges that lie ahead for Kirk and Spock."
Speaking of the infamous Starfleet Captain and his pointy-eared second-in-command, it had previously been revealed that the likenesses of actors Chris Pine and Zachary Quinto would be incorporated into the game, but now it has been confirmed that the actors will also lend their voices as well. Pine and Quinto will be joined in the game by the entire crew of the Enterprise: Zoe Saldana (Lieutenant Uhura), Simon Pegg (Scotty), Karl Urban (Dr. Bones McCoy), John Cho (Mr. Sulu) and Anton Yelchin (Chekov). They will all be bringing their vocal talents to the game's script, which was written by Marianne Krawczyk (God of War), with input from the films' writers and producers, Roberto Orci and Alex Kurtzman.
Set your phasers to stun and be prepared to beam me up in early 2013 on the PC, PS3, and Xbox 360!