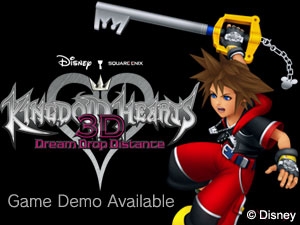 Marvel Pinball 3D leads this week's smattering of 3DS eShop releases. But shooting a virtual metal ball through tables based on Iron Man, Captain America, and the Fantastic Four doesn't compare to this week's biggest addition: a Kingdom Hearts 3D: Dream Drop Distance demo.
Tongue-twisting titles aside, Nintendo also added a second demo to the 3DS eShop today, the Sega-published rhythm game Rhythm Thief & the Emperor's Treasure.
In other news, Nintendo is jumping on the weekly bargain bandwagon with their "3DS eShop Game of the Weekend" promotion. The first title to get a temporary price cut is indie side-scroller VVVVVV, which will be available for $4.99 this weekend.
Want to read more about this week's new Nintendo Download titles? Hit the jump for more, including a pair of DSiWare titles.
Marvel Pinball 3D (3DS eShop) – Marvel Pinball 3D is the ultimate superhero pinball experience, featuring original tables based on legendary characters from the Marvel universe, including Iron Man, Captain America and the Fantastic Four.
Bomb Monkey (3DS eShop) – Blok Bombing is a fine and ancient sport invented by a small, creative troop of primates called Bomb Monkeys. The goal is simple: do not allow the bloks rising from the jungle floor to knock you from your perch.
Flip the Core (DSiWare) – In this side-scrolling action game, you can literally flip your screen at will, changing walls into tunnels, a death trap into a passage way, move an enemy from one spot to the next…
Escape the Virus: Swarm Survival (DSiWare) – Discover a whole new world hidden beyond the limits of the human eye. Dodge, wind and jump to link all pieces of DNA and build the longest chain ever while fighting off vicious viruses.