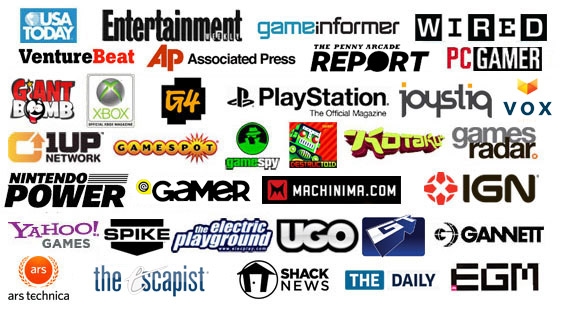 It's hard to argue with those who believe The Last of Us reigned supreme at this year's E3 Expo. That claim has been given some further validation by the Game Critics Awards, which handed five "Best of E3 2012" statues to Naughty Dog for The Last of Us.
The game, which stars two survivors of a post-apocalyptic America, won "Best of Show," "Best Original Game," "Best Console Game," and "Best Action/Adventure Game." It also took home a "Special Commendation for Sound."
No other game came close, though Dance Central 3, Halo 4, and XCOM: Enemy Unknown all won two awards and Watch Dogs collected two Commendations.
The Wii U was mostly shut out of the awards show, though the system itself won "Best Hardware" and the multiplatform Injustice: Gods Among Us won for "Best Fighting Game."
A complete list of winners can be found after the break.
Best of Show
The Last of Us (Naughty Dog/SCEA for PS3)
Best Original Game
The Last of Us (Naughty Dog/SCEA for PS3)
Best Console Game
The Last of Us (Naughty Dog/SCEA for PS3)
Best Handheld/Mobile Game
Sound Shapes (Queasy Games/SCEA for Vita, PS3)
Best PC Game
XCOM: Enemy Unknown (Firaxis Games/2K Games for PC, PS3, Xbox 360)
Best Hardware/Peripheral
Wii U (Nintendo)
Best Action Game
Halo 4 (343 Industries/Microsoft Studios for Xbox 360)
Best Action/Adventure Game
The Last of Us (Naughty Dog/SCEA for PS3)
Best Role Playing Game
South Park: The Stick of Truth (Obsidian Entertainment/THQ for PC, PS3, Xbox 360)
Best Fighting Game
Injustice: Gods Among Us (NetherRealm Studios/WBIE for PS3, Xbox 360, Wii U)
Best Racing Game
Need For Speed: Most Wanted (Criterion Games/EA for PC, PS3, Xbox 360)
Best Sports Game
FIFA Soccer 13 (EA Canada/EA Sports for PC, PS3, Xbox 360)
Best Strategy Game
XCOM: Enemy Unknown (Firaxis Games/2K Games for PC, PS3, Xbox 360)
Best Social/Casual Game
Dance Central 3 (Harmonix/Microsoft Studios for Xbox 360)
Best Motion Simulation Game
Dance Central 3 (Harmonix/Microsoft Studios for Xbox 360)
Best Online Multiplayer
Halo 4 (343 Industries/Microsoft Studios for Xbox 360)
Best Downloadable Game
Unfinished Swan (Giant Sparrow/SCEA for PS3)
---
Special Commendations for Graphics
Star Wars 1313 (LucasArts for TBD Platforms)
Watch Dogs (Ubisoft Montreal/Ubisoft for PC, PS3, Xbox 360)
Special Commendation for Sound
The Last of Us (Naughty Dog/SCEA for PS3)
Special Commendation for Innovation
Watch Dogs (Ubisoft Montreal/Ubisoft for PC, PS3, Xbox 360)