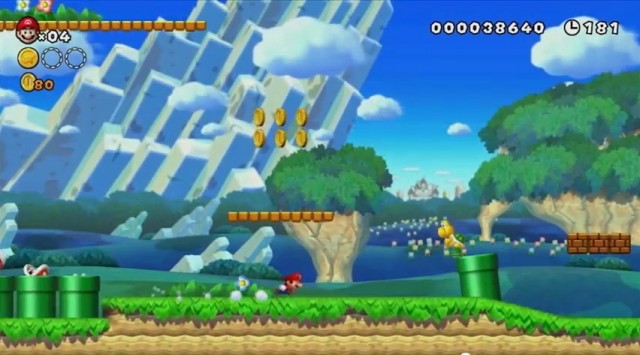 Tonight's Pre-E3 edition of Nintendo Direct revealed some interesting new details about the Wii U GamePad and Pro Controller, but the most interesting thing that company President Satoru Iwata showed off was unveiled with no fanfare at all.
During the latter portion of the presentation, Iwata unveiled the Miiverse social networking component that is included with every Wii U console. He also said that the service can connect gamers as they're playing Wii U games and demonstrated this connection with 16 seconds of footage from Super Mario Bros. Wii U.
The game is officially untitled and Iwata never confirmed the video came from the next Mario game. But we know the game in development, we know it'll make its debut at E3 2012, and we know that this new footage is different from last year's New Super Mario Bros. Mii tech demo.
You can see a few screenshots we pulled from the video, or watch the entire presentation yourself, after the break.
The Screenshots
Nintendo Direct Pre-E3 2012 Presentation
Super Mario Bros. Wii U footage begins at 22:18