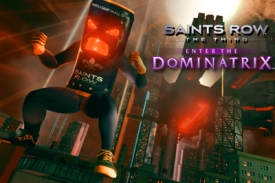 First, the bad news… THQ has cancelled Saints Row: The Third – Enter the Dominatrix.
Now, the good news… THQ cancelled Saints Row: The Third – Enter the Dominatrix so they could incorporate the content from the standalone expansion into Saints Row 4, which was given a 2013 release date!
THQ's new President, Jason Rubin, had some very interesting things to say about the decision: "I asked the team what it could achieve given more time, more resources, and a broader scope for the project. We all agreed we wanted to play that game. When it comes to Saints Row, it's clear our fans want bigger, better, and even more over the top."
That is quite the reversal for Rubin who, just a little over a week ago, told reporters that he thought Saints Row: The Third was "embarrassing."
Another major question has emerged from this news, and that's the fate of Volition's Insane. The first part of Guillermo Del Toro's video game trilogy was originally scheduled for a 2013 release, but with Volition hard at work on Saints Row 4, will they have time to finish the horror title too?
Of course, considering Rubin's comments last week, Insane may already be cancelled.