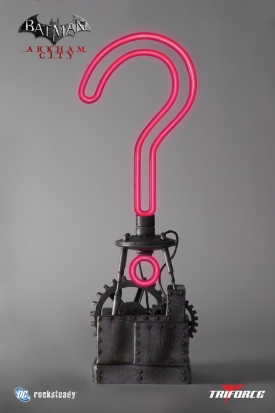 Not content with creating a full scale replica of Batman: Arkham City's Batarang and a standard Riddler Trophy, the geniuses at Project TriForce have created a limited edition Catwoman Trophy exclusively for this year's San Diego Comic-Con.
The Pink Catwoman Riddler Trophy Full Scale Replica is hand-finished and hand-painted to precision quality. Intricately crafted and cast in polystone, it measures 19″ in height, weighs in at 8 pounds, and features working LED effects!
While not ready just yet (if the big question mark didn't give it away), the company will be taking pre-orders at the event with delivery sometime in late 2012. Although quite pricey at $400, it will be a limited edition piece, with only 100 being made. Those unable to attend Comic Con may still have a chance to pre-order one via TriForce's online newsletter.
So pre-order it before she steals them all!