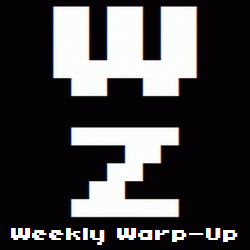 No, that's not a typo. Welcome to the Weekly Warp-Up, your weekly wrap-up of the biggest and the best articles posted at Warp Zoned this week…
Happy Father's Day to all the dads out there! Did you get anything cool from Warp Zoned's Summer 2012 Geek Gift Guide? I hope you did. Also, I want to give a special thanks to my dad. When I was a little kid, he probably bought that Atari 2600 that I thought was mine for himself. But I don't think he had any idea that playing Pole Position with him would change my life so completely. I miss you.
Since the 2012 E3 Expo was held from June 5-7, this week has little in the way of big news. But there are a lot of rumors floating around. For exmaple, for the next 3DS Zelda game, legendary designer Shigeru Miyamoto wants to create a Legend of Zelda: Majora's Mask remake or a remake of/sequel to The Legend of Zelda: A Link to the Past (he isn't sure which). I'd go with the second one.
Another rumored game I wouldn't say no to is a Retro Studios-developed Star Fox title for the Wii U. The leaked images are likely fake, but we can dream can't we?
Finally, an internal memo from Microsoft (that may or may not be real) has been leaked detailing the Xbox 720's 2013 release. If true, it'll include a built-in DVR, native 3D support, a Blu-ray drive, and hardware-based backwards compatibility for all Xbox 360 games.
Hit the jump to view more of this post-E3 edition of the Weekly Warp-Up.
The Week in Reviews…
The Week in New Games…
Amazing Paperboy Delivers…
It's A Secret To Everybody…
And Finally…
The latest Resident Evil: Retribution trailer is completely baffling and may retcon multiple movies into the nothingness that is "It was all a dream." I'm probably still going to see it.