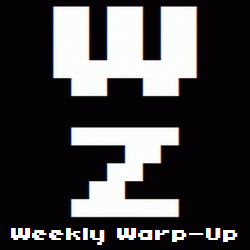 No, that's not a typo. Welcome to the Weekly Warp-Up, your weekly wrap-up of the biggest and the best articles posted at Warp Zoned this week…
Do you miss the hustle and bustle of E3? Even though gaming's biggest showcase was only a few weeks ago. I guess Nintendo does as they just held another Nintendo Direct presentation, dropping a few bombshells that would have made more sense to come out of Los Angeles.
The biggest story from the presentation was the announcement of the 3DS XL. Scheduled for an August 19 release and sporting screens that are 90% larger than the current 3DS, the 3DS XL is definitely a unique beast.
If the idea of the 3DS XL doesn't appeal to your (and the general Internet consensus is that the system makes no sense), there's always the other Nintendo Direct announcements including Professor Layton and the Miracle Mask's US release (in November) and the first English-language trailer for Pokemon Black 2/Pokemon White 2.
And there was also the news that Namco Bandai will be developing Super Smash Bros. 4. I don't know about you, but I think that's pretty E3-worthy.
Hit the jump for more news that wasn't quite E3-worthy from last week.
The Week in New Games…
Amazing Paperboy Delivers…
It's A Secret To Everybody…
The Xbox Live Rewards program might soon start handing out rewards to Achievement hunters.
Hideo Kojima confirms (again) that Metal Gear Solid 5 is in the works and that it'll star Solid Snake.
And Finally…
Kevin Tancharoen's rebooted Mortal Kombat film franchise may include a character who discovers he has supernatural ninja abilities while working at a supermarket. Really?