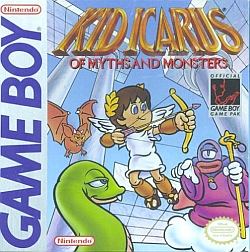 After Nintendo launched the Game Boy, they used their new handheld to resurrect some of their (then) long-forgotten franchises. That's how Samus Aran jumped back into the limelight and that's how gamers got their last taste of Kid Icarus until this Spring's 3DS seqeul, Kid Icarus: Uprising.
Before Pit was brought back in 2012, he starred in Kid Icarus: Of Myths and Monsters. The black-and-white game is now available on the 3DS eShop as part of Nintendo's 8-Bit Summer. It's joined by another Game Boy game from long ago, the vacuum cleaner shooter Tumble Pop.
Four other games make up this week's Nintendo Download. You can hit the jump for more information on all of them.
Masyu by Nikoli (3DS eShop) – With the Nikoli puzzle series, you can enjoy high-quality "Masyu" puzzles, created by Nikoli, who gave the world-famous puzzle its name.
The Phantom Thief Stina and 30 Jewels (3DS eShop) – Sneak pass the guards, bypass the security codes and experience the rush of stealing the jewels. A real-time strategy and action game that allows you to play as both the hero and villain; which one will you excel at?
Petit Computer (DSiWare) – Petit Computer is an easy-to-use programming tool that lets you create everything from music, to images, to your very own original games using an adapted version of the classic BASIC programming language.
Rabi Laby 2 (DSiWare) – Rabi Laby 2 is the next episode in this hybrid puzzle platform series. The player controls both Alice and Rabi and must use their unique skills to escape. They will encounter interesting creatures, strange places and unusual puzzles, fueling their humor and challenging their wits.
If none of these games strike your fancy, Nintendo is offering a special "Game of the Weekend" discount for Mario's Picross. You can pick it up for only $2.99 all this weekend.