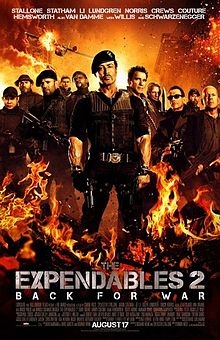 Sad news, Grand Theft Auto III was originally planned to be added to the PlayStation Store today, but it's been delayed. A new release date will be announced soon. Moving on…
This week marks the start of Sony's PSN Play 2012 promotion and it begins with a bang with The Expendables 2. The plot of the tie-in game will actually lead into this Summer's blockbuster movie that stars Sylvester Stallone, Arnold Schwarzenegger, Bruce Willis, Jason Statham, Jet Li, Chuck Norris, Jean Claude Van Damme, and many, many more.
On the PS3 Full Games side of the store, Namco Bandai has added the Burnout-inspired Ridge Racer Unbounded to the PlayStation Store.
Also available this week is a PS2 Classic that is definitely deserving of the label: War of the Monsters. The monster battling game was a bit of a sleeper hit back in the day, but it developed a huge cult following that is sure to be thrilled about it's appearance among the PS2 Classics.
Finally, Atlus has brought their PSP RPG (yes, they still make those) Growlanser: Wayfarer of Time to the PlayStation Store.
Hit the jump for more information on all of this week's releases and head over to the PlayStation Blog for more details on all of this week's new game add-ons.
PS3 Full Games
Ridge Racer Unbounded ($44.99)
Ridge Racer Unbounded gears up to carve its own destructive path on a spectacular collision course! Ridge Racer is on its way back into the eager hands of gamers and RIDGE RACER Unbounded is coming to add an unexpected dimension to the series and deliver an original blast of ferocious racing adrenaline. Easily create thousands of tracks and share them online.
PSN Games
The Expendables 2 ($14.99)
The Expendables videogame is a way for fans to experience all of their favorite explosive moments, as their favorite stars, in four-player co-op action.
PS2 Classics
War of the Monsters ($9.99)
Topple buildings and terrorize civilians as a giant creature wreaking havoc. Defeat rival monsters to be the strongest in the world.
PSP Games
Growlanser: Wayfarer of Time ($29.99)
Join the enigmatic Crevanille on his journey through Noyeval as he tries to discover why mankind is being targeted for destruction. What power do the mysterious Angels possess? Who holds the key to preventing another tragedy? And how will your choices affect the outcome of world-shaking events? Discover the answers to these questions and more as you experience the legend of Growlanser!