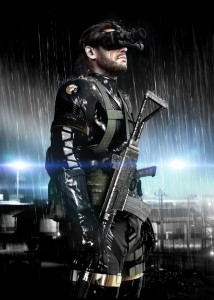 It doesn't have a "5" tacked onto its title, but Hideo Kojima has just announced the fifth major Metal Gear Solid game at a special 25th anniversary event in Japan. Officially known as Metal Gear Solid: Ground Zeroes, the game will star a younger Solid Snake in an open-world game.
A short demo accompanied the announcement, showing Snake "avoiding searchlights, riding a jeep, and calling a helicopter in for evacuation." All of this was also said to take place in the rain, a first for the series.
Metal Gear Solid: Ground Zeroes is powered by Kojima Productions' new Fox Engine, but it's believed that the game will ship for current generation platforms (the PS3 and/or the Xbox 360) in addition to a possible PC version. However, that release date is obviously a closely guarded secret for now.
[Source: Siliconera]