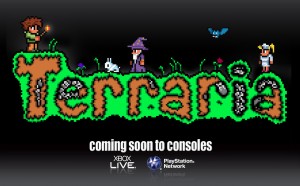 Get ready to build yourself into the wee hours of the morning! 505 Games has announced it's bringing the popular PC side-scrolling block-building game, Terraria, to the PlayStation Network and Xbox Live Arcade.
In Terraria, you can collect a huge amount of items and materials to build a giant home base so you can protect yourself from the perils of the outside… as well as craft even more items. The massive world is full of monsters just ready to eat and/or provide sweet drops for you.
Terraria was first released in 2011 by creator and developer Andrew Sprinks' studio, Re-logic. The game's 1.6 million players have added much to the world, and hopefully console players will bring even more.
Tim Woodley, Head of Global Brand for 505 Games, said, "The block-building genre has taken the world by storm and Terraria has garnered a massive following through its increased focus on adventure and discovery. We're looking forward to bringing an already hugely successful experience to a brand new console audience and we can't wait for the existing Terraria fan base to experience all-new content".
Sprinks is excited as well. "I can't say how excited I am to finally have Terraria come to Xbox 360 and PlayStation 3!" he said. "To see it come so far is a complete shock, especially after such humble beginnings. It's always been my dream to have as many people as possible know and enjoy Terraria as much as I have, and this is another big step in that direction! It's been awesome working with 505 Games, and I can't wait for everyone to see the additional features that they've been able to bring to this new edition of the game."
Terraria will be available on the PSN and XBLA in early 2013.