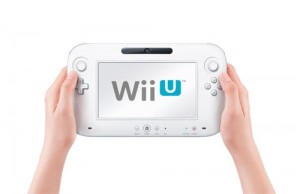 As promised Nintendo Japan has announced when gamers in Japan will be able to get their hands on the Wii U (see what I did there?) on December 8. The system will be available in two configurations, a black 32GB Premium Set (¥31,500/$405) and a white 8GB Basic Set (¥26,250/$338). A release date and price for the US launch will be announced later today.
Will initially reluctant to sell the Wii U GamePad separately, Nintendo Japan has confirmed the tablet controller will be available in stores for ¥13,440 ($173). Of course, one GamePad is included with every system, along with an AC adapter, a stylus and an HDMI cable. The Premium package will include all of that as well as a GamePad AC Charging Adapter, GamePad Stand, a Wii U Stand, and a one-year subscription to Nintendo Network Premium.
Nintendo Network Premium subscriptions (which are only available with the 32GB system) will receive free eShop Points as well as a 10% discount on all eShop purchases. The Pro Controller will also be sold separately, at a price of ¥5,000 ($64).
Again, the Wii U's launch price and release date for North America will be announced later this morning, so it's possible that prices on this side of the Pacific won't be so high.