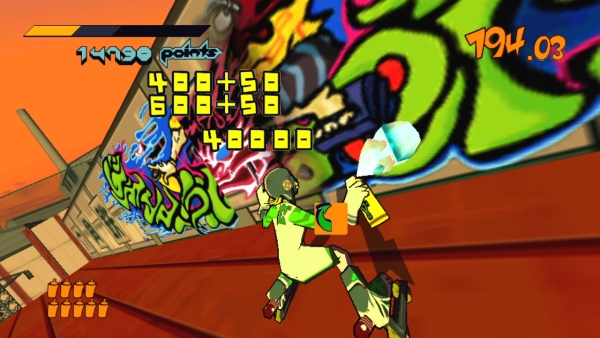 The rollerblading graffiti taggers of Sega's Jet Set Radio make their way to the Xbox Live Arcade this week in a new high definition remake. Available for 800 Microsoft Points ($10), you can download one of the Dreamcast's most beloved games now:
Tag, grind, and trick to the beat in Sega's hit game Jet Set Radio! Fight for control of Tokyo-to, mark your turf with graffiti, tag walls, billboards, and even rival gang members! Perform tricks and flips on magnetically driven in-line skates, but watch out for the local police force! Now on Xbox Live Arcade, Jet Set Radio is part of Sega's Heritage Collection series and now features lush HD visuals, developer interviews, and amazing fan-created graffiti.
Also available this week is the action RPG R.A.W.: Realms of Ancient War, which has been priced at 1200 Microsoft Points ($15):
R.A.W.: Realms of Ancient War – the new heroic-fantasy hack'n'slash (action/role-playing game) takes you on a continent ravaged by a war! Take control of a powerful Warrior, a dark Sorcerer or a Rogue master of stealth, and plunge into a grand quest full of action! The explosive Hack'n'Slash (action/rpg) R.A.W. leads you, alone or in 2-player co-op, through many, varied levels full of deadly monsters and intense action! Earn experience through the violent battles you fight, loot weapons and magic items on the lifeless bodies of your opponents, and develop the power of your hero! Learn new powers and ever-more devastating spells, some of which, when mastered, will inflict tremendous damage and eradicate your enemies by the dozen! Take direct control of the body of your most powerful foes, seeding discord and destruction right at the heart of the enemy's armies! In cooperation mode (local), invite a friend to join your quest. Coordination and teamwork are essential ingredients to exterminate your outnumbering opponent!