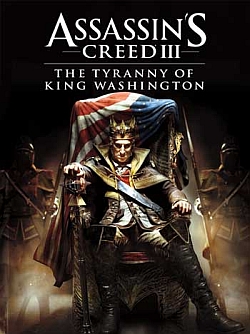 Assassin's Creed III is jumping on the Season Pass bandwagon with an alternate-alternate history of the American Revolution told in three downloadable parts.
"The Tyranny of King Washington" posits what the fledgling nation of America would be like if George Washington decided that a more royal reputation was in order for the office of the President after being elected in 1789. In addition to the three episodes of "King Washington," the Assassin's Creed team at Ubisoft will release new multiplayer content including "new maps and characters."
The Season Pass will be available for $29.99 (or 2400 Microsoft Points) on the PC, PS3 and Xbox 360. Wii U owners will also receive access to "The Tyranny of King Washington," but the packs will have to be purchased separately.
"History is our playground – and AC teams have always loved playing with historical facts and their consequences as a way to better understand a time period," said Sebastien Puel, Executive Producer at Ubisoft. "While Assassin's Creed III concentrates on history as it happens, we wanted to take some liberties with this DLC and tell you how things 'could have happened.'"
No timetable was announced for the Assassin's Creed III DLC, but Season Pass owners will be able to download the DLC one week before the general public.