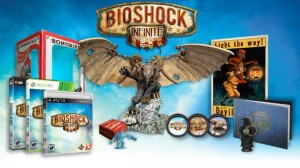 Irrational Games just upped the competition for best collector's edition ever with the new Ultimate Songbird Edition for BioShock Infinite. This version of the game – which costs $149.99 – comes with the Songbird statue, an art book, a resin miniature for their upcoming board game based on the video game (yay!), a lithograph, a sweet keychain, a digital soundtrack, three gear powerups, and downloadable content specific to whichever platform you buy it on. Oh, and it comes with the game, too.
Don't want that giant statue? Order the Premium Edition instead, which comes with everything except the statue, and will cost you $79.99. You can pre-order your copy of either edition (or the game-only box) at your retailer of choice now. Personally, I'm excited to hear more about the board game, BioShock Infinite: The Siege of Columbia by Plaid Hat Games. Just take my money, Ken Levine.
BioShock Infinite will be released on February 26, 2013 for the PC, PS3, and Xbox 360.