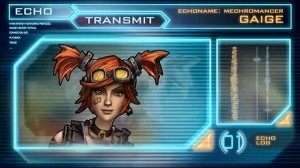 Great news! The sweet new DLC character for Borderlands 2, Gaige the Mechromancer, will be available today. She was slated to drop on October 16, and Gearbox had even recently shared Gaige's skill tree, so that impatient and excited fans could start tweaking her points now instead of waiting. Luckily, that wait was shorter than expected.
Pitchford himself shared the good news on Twitter:
So – here's the surprise, Mechromancer for Borderlands 2 is ready about a week earlier than I promised. Oct 9, all platforms. Woo!
I pre-ordered Borderlands 2 from GameStop, and showed up at midnight to grab it. I didn't receive my DLC code, which I assumed would be in the game. Then I read somewhere that it would be emailed… but I still haven't gotten it emailed. I guess this sad panda is shelling out another $9.99.